All professionals at Falmouth Women's Health maintain the highest levels of accreditation and pursue ongoing education to stay abreast of the latest trends in the medical field. Read on to learn more about our staff's experience and training.
---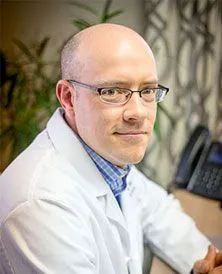 Richard E. Heywood, DO
Education: University of New England College of Osteopathic Medicine
Residency: Portsmouth Naval Hospital
Board Certified in OB/GYN since 2010
FACOG
Dr. Heywood was born in Plymouth and raised in Marstons Mills, Massachusetts. His favorite activities in his youth included Boy Scouts, fishing, and playing guitar and trumpet in his band. He attended Massachusetts Maritime Academy in Buzzards Bay where he studied Engineering, met his wife and took a commision in the Navy Reserve upon graduation. After working for several years as an engineer at Stone and Webster in Boston, he felt he missed the human aspect in his profession and wanted to explore the medical field. He signed up for pre-med classes at Harvard Extension School which is where he became good friends with Dr. Speed. Dr. Heywood went onto New England College of Osteopathic Medicine and graduated in 2004. He completed his OB/GYN residency at Portsmouth Naval Hospital in Portsmouth, VA and moved with the Navy to work at Bremerton Naval Hospital in Bremerton, WA. After 7 years of serving active duty in the Navy, he moved with his wife and three children back to Cape Cod to be closer to their families. In 2014 he started Falmouth Women's Health to et back to the basics of providing medical care. His desire to provide good old fashioned medical care to his patients led him to simplify his medical practice. This streamlined approach allows him to spend significantly more time with each patient while increasing patient satisfaction and his own job satisfaction. This leads to more meaningful and productive interactions and allows time for patients to be heard and the physician to tie up all loose ends during the visit. Dr. Heywood truly enjoys the ability to spend more time getting to know individual patients and therefore individualize their care. In his spare time, he enjoys fishing, boating, music and spending time with his family and his dog Frankie. He is looking forward to having Dr. Speed join his practice!
To find out more about Dr. Heywood's degree (DO) click here!
Elizabeth M. Speed, MD
Education: University of Massachusetts Medical School
Residency: Albert Einstein College of Medicine at Montefiore
Board Certified in OB/GYN since 2011
FACOG
Dr. Speed was born in Boston and raised in Needham, Massachusetts. While growing up, she spent nearly every summer on Cape Cod. Her family had a home in Dennis and as a teen, she worked at Scargo Cafe each summer. She attended Georgetown University in Washington, DC where she studied English and Government with a plan to attend law school. However, her love for women's health and advocacy enticed her to go back to school to become a physician. She studied pre-med at Harvard Extension School (where she met Dr. Heywood), and went on to attend University of Massachusetts Medical School. She completed her OB/GYN residency at Albert Einstein in the Bronx, NY and then worked with the underserved at Bellevue Hospital in Manhattan where she served for 5 years as full time faculty at New York University School of Medicine. For the past 4.5 years she has been working as full-time faculty at New York - Presbyterian Brooklyn Methodist where she has enjoyed teaching and acting as the Director of Patient Safety for the OB/GYN department. Although she has enjoyed her 13 years of practicing medicine in NYC, Dr. Speed, her husband and two children have decided that it is time to come home to Massachusetts where she will be near family and many lifelong friends. She is looking forward to spending time with them and enjoying what she loves including paddle boarding, kayaking, cooking, reading and listening to music. She is looking forward to working in the Cape Cod community and joining Dr. Heywood's unique and personal practice.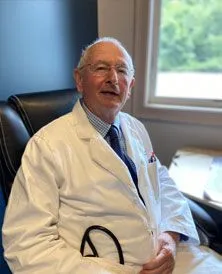 Joseph J. Conway, MD
Education: Tufts University School of Medicine, Boston, MA
Residency: Baylor Affiliated Hospitals, Houston, TX
Brigham and Women's Hospital, Boston, MA
Harvard Medical School, Boston, MA
Board Certified in OB/GYN
FACOG
Dr. Conway grew up in Medford, Massachusetts, and attended Boston College High School in Boston and the College of the Holy Cross in Worcester. He has raised four children here on Cape Cod along with his wife Tricia of 50 years. Dr. Conway served as the Chief of Staff at Cape Cod Hospital in 2007 and 2008 and has had a long-standing collaborative relationship with Dr. Heywood and his practice. Dr. Conway recently closed his own practice of 43 years in Hyannis and is now working part time in Dr. Heywood's office. His patients say they will follow him to wherever he continues to practice! He has impressed all with his experience and always has an easy manner and a ready smile. In his free time, loves to be out on his boat or spend time with his friends and family.
Valerie A. Walbek, NP
Valerie Walbek grew up in Minnesota and graduated from Swarthmore College and then the University of Pennsylvania with a master's degree in nursing, specializing in Women's Health. Upon graduation in 2006, she moved to Falmouth to work as a nurse practitioner as her husband began oceanographic research in Woods Hole. Valerie holds a lifelong passion for women's rights and women's health, which has deepened to encompass the wide range of sexualities and genders. In addition to providing healthcare, she enjoys teaching about sexual health to equip young people with the knowledge and relationship skills they need to make healthy and safe choices regarding their sexuality. She is thrilled to be part of a practice that provides excellent, compassionate, and patient-centered healthcare. In addition, Valerie loves being outdoors - running, hiking, bicycling, and camping with her husband and two kids.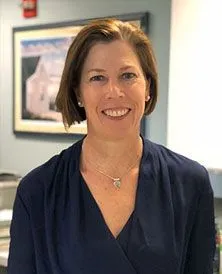 Laura - Office Manager
Laura was born and raised in Massachusetts and spent many years as a child visiting the Cape during her summers. Her favorite part of her job is getting to know new patients. She is a graduate of Colby College in Waterville, ME and enjoys spending time with her family, friends, cats and dog. She likes reading, gardening and hiking.
Michele - Medical Receptionist
Michele was born and raised in New York and moved to Cape Cod after graduating from Framingham State University where she met her husband. She has previously worked in other healthcare settings and brings with her years of patient care experience. Outside of work Michele enjoys riding her Peloton, analyzing her dog, watching football and baseball and most importantly spending time with her husband and two children! She looks forward to building relationships with new patients and getting to know more about women's healthcare.
Kerri - Medical Assistant
Kerri is a life-long Cape Cod resident with many ties to the area. She graduated from Cape Cod Community College and is a Certified Medical Assistant. Kerri has a knack for remembering patients names and really enjoys caring for them. In her spare time, Kerri enjoys watching her son play baseball, spending time with friends and family and watching the Patriots or Red Sox. Dr. Heywood says he would be lost without Kerri!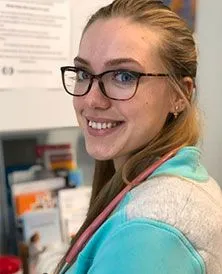 Samantha - Medical Assistant
Sam grew up in North Carolina and moved to the Cape while in high school. She is a Registered Medical Assistant. She is sometimes the friendly face at our front desk but mainly works in the clinic with Dr. Speed as her Medical Assistant. Sam is our resident technology expert as well and is often tasked with getting a printer back online or fixing some other issue. Sam's super power is always being in a good mood.
Elizabeth - Medical Assistant
Elizabeth was born and raised on Cape Cod and she is a member of the Mashpee Wampanoag Tribe. Her grandmother was a maternity nurse, and Elizabeth always wanted to follow in her footsteps, wearing scrubs and a stethoscope to work. In 2015, she became a Certified Medical Assistant through Cape Cod Community College. She loves interacting with patients and working in Women's Health. In her free time, she enjoys being outdoors, gardening, and archery with her children.